Set in Edwardian London a compelling family saga you won't want to put down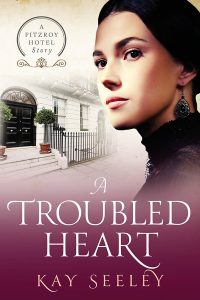 Verity Templeton, eighteen and fiercely independent, travels to London with her aunt for the season. During a weekend with her friend Charlotte Huntington-Smythe an encounter with Charlotte's brother shows her another side of the family.
Then she meets Brandon Summerville, the handsome, arrogant, wealthy man about town Charlotte is in love with. Will she be able to resist his obvious charm?
When a secret from the past turns her life upside down she doubts everything she's believed in. Her fight to find the truth brings more heartache. Can she forgive or will it destroy her hopes for future happiness?
Meanwhile, Lawrence Fitzroy contemplates his own future and things get worse for Daisy Carter, the hotel housekeeper, when a new Under Manager is appointed. Can Daisy keep control of her staff, or will an errant maid's wilfulness be the undoing of her?
A story of love, deceit, honour and a struggle for justice.
Follow the fortunes of the guests and staff at The Fitzroy Hotel in A Troubled Heart, the second Fitzroy Hotel Story.
Perfect for fans of Downton Abbey and Upstairs Downstairs.
Kindle £2.99p here. 
Paperback £8.99 here.
Large Print here.