Latest News/Events
Write Ideas Festival in Whitechapel.
Brilliant afternoon tea with readers at Harefield Library. Chatted with the lovely Lara and met some fab people. Sold out of books too! And there was cake!
Harefield Library as part of Hillingdon Culture Bite.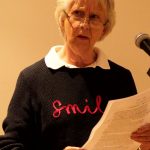 Here's me reading a humorous story at the September Speak Your Mind Event at West House in Pinner. A fab evening.
This is me at West House, Pinner, for the July Speak Your Mind event where I read from The Guardian Angel. Fab picture if I say so myself.
I also had a lovely evening at the St John Fisher Parish Church Summer Literary Festival on 13th July. Music, poetry and prose. A fab event.
Great Afternoon Tea with The Society of Women Writers & Journalists (SWWJ) at The Liberal Club in Whitehall. Lovely to hear the winning story in the competition I helped judge being read out by the author.
I had a lovely evening meeting readers of The Watercress Girls at St John Fisher Parish Women's Group. Great to meet readers and talk about the lives of the Victorians. A stimulating, lively discussion! Loved it. Many thanks to Barbara Towell for inviting me.
Great day out at The Angel Canal Festival on 4th September 2016 signing and selling my books. It was great to see so many people out enjoying the stalls and activities. As well as different bands playing throughout the day there was Morris Dancing and Ukuleles. I was thrilled to talk to Angels and meet the Pearly King and Queens as well as the Mayor.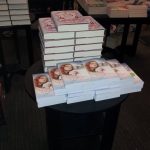 I was delighted to be invited to read the first chapter of The Watercress Girls as part of Novel London's Evening of Historical Writing on 1st July, 2016 at Waterstones, Islington. You can watch the video here.   A most enjoyable evening. Thank you Novel London.
Great to have two books featured in Ingram Spark's #SummerReading #FridayReads Advert. Yay!
Love the Antiques Roadshow, Bargain Hunt and Flog it? Read about my Auction Experience on Oapschat here
I spent a lovely evening at West House, Pinner on 19th May where I read from The Water Gypsy. A brilliant evening of poetry, prose and music (and a bar). The picture is of me with my friend Jan Silverman. (Thanks to David Stroud)
Our stall at the Ickenham Festival Gala on 18th June. We had a fun day and met some lovely people. Most enjoyable.
My book signing at Croxley Royal British Legion Coffee Morning made it into The Croxley News.