May Your Wheels Always be Turning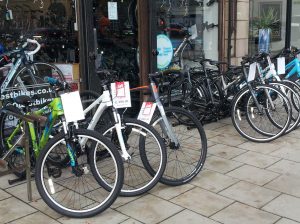 "A cycling magazine?" Gary's eyes widened.
"Research," Petunia muttered, "for the article I'm writing."
The furrows on Gary's brow deepened. "But you don't know anything about cycling."
"I don't know anything about marathon running either, but it didn't stop me writing about that. It's called research. You can learn all you need to know on the internet without ever leaving your own front room."
Gary sighed. "That's just as well then, isn't it," he said and went to put the dinner on.
A couple of weeks later Petunia, face flushed with excitement, greeted him with a self-satisfied grin. "You remember that article I wrote about cycling? Well they've accepted it and asked me to write a monthly column. How about that?" She showed him the e-mail.
"Marcus Watson? Who's Marcus Watson?"
"Me. You wouldn't expect them to offer a monthly cycling column to someone called Petunia Shuttlebrick would you?"
Gary shook his head in bewilderment. "How can you write a monthly column about something you know nothing about, something you've never experienced, leastways, not since you were a teenager, what, thirty years ago?"
Petunia grimaced. Trust him to spoil everything – ever the wet blanket. He should be happy for her. Still, he did have a point. "That's the thing," she said. "They expect me to attend rallies and report on races; even take part in some of them."
"Well, that's it then. You can't can you?"
"No. But you could – as Marcus Watson."
"Me?"
"Yes. Why not? You're reasonably fit and you do have that old bike in the shed. You could go and tell me about it and I'll write is up. Perfect solution."
"You're mad." Gary turned to walk away.
"The money's amazing," she said.
He turned on his heel. "How amazing?"
A smile spread across his face when she told him. "I'll need to get into training," he said.
*
Gary retrieved his old racer from the shed, cleaned and oiled it, bought a new saddle and replaced the wheels.             Petunia watched as he swung his leg over the cross-bar. She'd never imagined him in Lycra before but found it quite exhilarating.
An hour later he returned, red faced and struggling for breath. "It's no good. I can't do it," he said. "Not at my age."
"Of course you can," Petunia insisted, rubbing his thigh. "You just need to get used to it. You can get used to anything in time."
Gary gazed at her. His face softened. He sighed and kissed her. "You win Pet," he said. A warm feeling flowed through her like melting butter. Best thing she ever did marrying Gary, he'd never let her down.
Over the following months Gary trained every night. He joined the local cycling club and faithfully reported to Petunia. He told her about the joy of feeling the wind in his face, the smell of the hedgerows as he sped along country roads, the freedom of free-wheeling down hills, the rallies and the races, the riders and their rivalries, the spats and petty jealousies; the cycling club proved to be a hot-bed of gossip and innuendo. "All grist to the mill," Petunia said. He took photos of the routes and riders and uploaded them on to Petunia's PC.
The column was a huge success. Petunia wrote it based on Gary's observations and anecdotes and passed it to him for his approval before sending it to the editor. If he made any comments she unfailingly accommodated his ideas. "We make a fantastic team," she said. "You do the research, I do the writing. Together we're invincible. I see a fabulous future ahead of us."
Gradually, his hair lightened in the sun, his face tanned and his body tightened. Fitter and more muscular he started watching his diet and gave up his nightly tipple.  Instead of spending time in the pub at week-ends, he took long rides out into the country. A variety of cycling magazines arrived on Petunia's doorstep as Gary's passion for the sport grew. Petunia scanned them all for new markets for her writing.
One day, he suggested she include something about the helpers – the unsung heroes who turn out week after week in all weathers to provide refreshment, record times or work as marshals or stewards. "None of the rallies or races could go ahead without them," he said. "Their sterling efforts on our behalf should be recognised. There are some pictures on my iPhone."
While he showered Petunia scrolled through his phone looking for the photos. She checked his inbox. She froze as paralysing fear gripped her. A photo of Gary, grinning all over his stupid face, stared out at her. His arm was casually draped around the shoulders of a tall, good-looking, thirty-something blonde; her arm circled his waist, her head rested coyly on his now massive shoulders. The message read
'You are the best. You brighten up my day. Looking forward to Sunday. Love xxx Mandy.' She scrolled through several other texts, all light-hearted and flirty. All from Mandy. All with love and kisses.
A flush of hot blood rose through Petunia like the fire inside a volcano. Skinny as a straw and shallow as a saucer only half as interesting, she thought; just the sort to turn the head of a fast-approaching-mid-life-crisis man like Gary.  An icy hand squeezed her heart. Tears sprang to her eyes.
"Who's Mandy?" she asked as casually as she could manage while they were dishing up the dinner.
"Mandy?"
"Yes – you brighten up my day, Mandy – remember?"
"Oh – Mandy? She's one of the helpers. Great girl. Very sporty."
I bet she is, Petunia thought, plonking an extra helping of potato on his plate.
Petunia was late getting the next edition of her column to the editor. So late in fact that she sent it without letting Gary see it. "Sorry, love," she said. "Deadline. You know how it is."
When the magazine arrived he turned to read her column.  She watched the blood drain from his face his face as he read…
            'It is with the deepest sadness and regret that we have learned of the tragic death of Marcus Watson, our cycling correspondence.  Marcus was involved in a fatal accident at the foot of Hampton Hill when he skidded on ice into the path of an oncoming lorry. He was much loved within the cycling fraternity. He will be missed. His family have asked that his funeral be a private affair and we will respect their wishes. Anyone wishing to make a donation in his memory should send it to the Trauma Unit at the Royal Orthopaedic Hospital. RIP Marcus Watson, we were privileged to have known you. May your wheels always be turning. The Editor.
Gary raised his head to stare at her.
Petunia swung her wheelchair to face him. "I've got another project," she said, beaming with enthusiasm. "This one pays even better.  It's about Formation Dancing for the Over Sixties.  You'd be amazed how popular it is – there are groups and competitions and everything…"
If you enjoyed this story there are many more in my short story collections here.