An uplifting story of triumph over adversity.
When Tilly Thompson, a girl from the canal, is caught stealing a pie from the terrace of The Imperial Hotel, Athelstone, the intervention of Captain Charles Thackery, saves her from prison. Tilly soon finds out the real reason for the rescue.
With the Captain Tilly glimpses life away from the poverty and hardships of the waterways but his favour stirs up jealousy and hatred among the hotel staff, especially Freddie, the stable boy who harbours desires of his own.
Freddie's pursuit leads Tilly into far greater danger than she could ever have imagined. Can she escape the prejudice, persecution and the hypocrisy of Victorian Society, leave her past behind and find true happiness?
This is a story of love and loss, lust and passion, injustice and ultimate redemption.
Avail;able for Kindle £2.99  here.
In paperback here.
Lareg Print here.
Or buy online from Waterstones Click & Collect here (usual delivery 3-5 days)
Order from your local bookstore: ISBN 9780993339400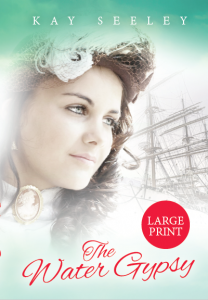 Also available in Large Print from Amazon  here .
Buy from your local bookshop ISBN 978-1-9164282-3-2
NOW AVAILABLE IN AUDIO  beautifully read by Kristina Hale. Listen to a sample below.
Purchase audio book from Audible here  or from Amazon here
The Water Gypsy was chosen as a finalist in The Wishing Shelf Awards 2014
The Water Gypsy Reviews:
It really takes you right into the mind of this young girl and you travel with her through all the many ups and downs.
A rollicking good read. This is one of those books that you find yourself galloping through, because you want to know what's going to happen next and yet dreading the end because you're enjoying it so much.
A terrific read. The plot, characters and period setting all come together beautifully and make for an unputdownable book.