From the bestselling author of The Guardian Angel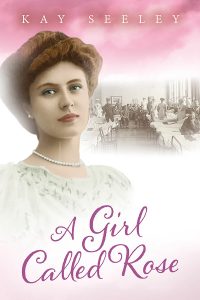 Set against the turbulent years of The Great War, A Girl Called Rose is a deeply moving story of heroism, sacrifice, human weakness and the enduring strength of family ties.
The close, loving family life Rose has known is shattered when the country goes to war. With the men away the women must take on war work and Rose resolves to do her bit.
Aged sixteen she leaves home, despite her mother's opposition, to train as a nurse in London. There she finds freedom, excitement and a way of life she never thought possible.
A brief encounter with a soldier opens her eyes to romance, but is he the man she thinks he is?
Can first love survive long separation or will Rose discover that her heart belongs to another?
When disaster strikes and the war brings searing loss and heartbreak, can the family find the strength to look to the future?
Can Rose make a difference to people's lives as she hopes?
A Girl Called Rose is Kay Seeley's third novel in the Hope Series. Written from the heart it follows the fortunes of the extended Daniels family through the war years. A must read story you won't want to put down.
Available from Amazon for Kindle £2.99  here.
Paperback at £8.99  here.
Large Print at £11.99 here.
Or buy from Waterstones here.
Large Print here.
Or from your local bookshop ISBN 978-1-9164282-8-7 Paperback or 978-1-9164282-9-4 in Large Print.
A Girl Called Rose is now available in Audio. Download it here.