Available in ebook, paperback  or large print. An Amazon #1 bestseller.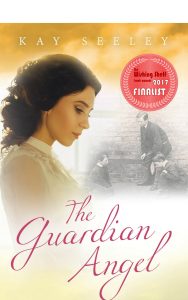 When Nell Draper leaves the workhouse to care for the five year old son of Lord Eversham, a wealthy landowner, she has no idea of the heartache that lies ahead of her.
Robert can't speak. He can't tell her what makes him happy or sad. Nell has to work that out for herself.
Not everyone is happy about Robert's existence.
Can Nell save him from a desolate future, secure his inheritance and ensure he takes his rightful place in society?
A  love  story.
Available from Amazon for Kindle £2.99 here
Paperback for £8.99 here.
Large Print  £11.99 here.
Or pre-Order from Waterstones here
ISBN 9780993339462
#1 Bestseller in Victorian Historical Fiction
The Guardian Angel has been selected as a FINALIST in The Wishing Shelf Book Awards 2017.
Read how my littlest grandson inspired this story here
Also in audio.