Many of my short stories have been published in women's magazines. I've put together three collections for you to enjoy them again, plus I've  included some unpublished ones just for you.  You'll find my short story collections on this page, the latest first.  All available from Amazon in ebook or print, on order from your local bookseller,  or contact me for signed print copies.
The Summer Stories, 12 romantic tales to make you smile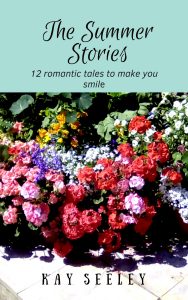 From first to last a joy to read. Romance blossoms like summer flowers in these delightfully different stories filled with humour, love, life and surprises.  Perfect for holiday reading or sitting in the sun in the garden with a glass of wine.
A stunning collection.
ISBN 978-0-9933394-9-3
'Kay Seeley is a talented storyteller, I cannot recommend her stories highly enough' – Anna May Mangan (best selling author)
Kindle edition £0.99 BUY HERE
Paperback edition £4.99 BUY HERE
The Christmas Stories, 6 tales reflecting the magic of Christmas
When it's snowing outside and frost sparkles on the window pane, there's nothing better than roasting chestnuts by the fire with a glass of mulled wine and a book of six magical stories to bring a smile to your face and joy to your heart. Here are the stories. You'll have to provide the chestnuts, fire and wine yourself.
ISBN 978-0-9933394-8-6
Kindle edition £0.99 BUY HERE
Paperback edition £3.99 BUY HERE 
The Cappuccino Collection, 20 stories to warm the heart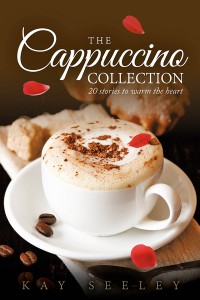 All the stories in The Cappuccino Collection, except one, have been previously published in magazines, anthologies or on the internet. They are romantic, humorous and thought provoking stories that reflect real life, love in all its guises and the ties that bind. Enjoy them in small bites.
If this collection were a cake it would be a deeply satisfying Chocolate Gateau.
Kindle edition £1.99 buy here
Paperback £5.99    here.
Order from your local bookstore: ISBN 978-0-9933394-1-7