Welcome to my Free Short Story. I'll be putting a new one up every month so be sure not to miss it.
Here's the story for September, 2022:
My Best Friend's Wedding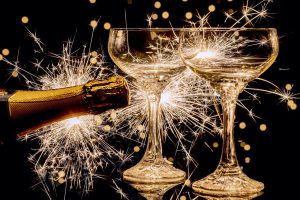 'I need a new dress,' I said to the girl in the shop. 'Something amazing, after all it's my best friend's wedding.'
Sophie had been my best friend since she sat next to me in primary school. She was a giggler and full of fun. We were always in trouble for chattering and laughing. We became known as the terrible two. I loved her like a sister. As we grew up we became inseparable – Sophie the head-turning blonde with legs up to her armpits, and me, the mousy-haired hanger-on happy to bask in her reflected glory. In our teens we'd hit the discos and clubs – Sophie sparkled and shone like a twinkling star while I hovered in her shadow. Not that I was bad looking, but next to Sophie anyone would pale into mundane insignificance. I didn't mind. Sophie was Sophie – a one off and I was glad to have her as my best friend. We even double-dated sometimes but deep inside I knew my partner only had eyes for Sophie.
Then she met Mark. Drop-dead gorgeous with dark hair made for running your fingers through and come-to-bed eyes that would melt lead at a hundred paces. He was witty, ambitious and charming, plus he drove a sports car. What more could any girl want? Sophie wanted him and she had an uncanny way of getting whatever she wanted. I'm not saying Sophie was shallow, but a saucer's got more depth.
Rugby matches and nights in the pub with Mark replaced our girl's nights out. I was relegated to days when Mark was unavailable or out of town. Not that I minded. I'd met Brian by then.
I was bridesmaid at their wedding. I wore pink and looked like a blancmange. Sophie looked like a princess. She glided down the Cathedral aisle like a ship in full sail with her train billowing out behind her. She glowed with happiness. The music swelled to the rafters. I was one of the ten bridesmaids following in her wake.  
The wedding was the social event of the calendar. Sophie's dad was on the City Council and no expense was spared. If the cost of the wedding bore any relation to the longevity of the marriage it should have lasted a lifetime. But it didn't.
Within six months the cracks were beginning to show. Suddenly I was in demand again. 'He doesn't care about me,' Sophie complained. 'He spends more time at work than he does at home. We never go anywhere. He cares more about his algorithms and mega-bites than he does about me. Honest, I'm turning into a house-mouse. We never have any fun.'
'It's bound to feel a bit of a come-down after such a fantastic wedding,' I said. 'But you can't party forever. It's just post-wedding blues.'
But Sophie didn't agree. She'd dreamt of living life in the fast-lane and nothing less would do, while Mark was dedicated to building his own business.
'He wants me to get pregnant,' she said to me several months later. 'What does he think I am – some sort of cow? Oh, sorry.' I was pregnant with Kirsty at the time.
'Perhaps he just wants children?' I said. Sophie looked disgusted.
Yes, definitely a red dress. I was wearing red when I met Brian. It's his favourite colour. He was in the army then. I met him at a club when he was on leave. We got married soon after, before he went back to join his regiment. He was often away so I couldn't see what Sophie was moaning about. At least her husband came home every night – eventually.
By the time Brian left the army we had two children, Kirsty and Joe. Brian settled for a job as an electrician re-wiring people's houses. We were content, which is more than I can say about Sophie.
Her marriage spluttered on for a few more years but her heart wasn't in it. Before long she was a regular visitor for girls' nights in. During long wine-soaked evenings, when Mark was working, I had a full run down of his short-comings.
'All I want is a chance to go out and enjoy myself,' Sophie would say. I resisted the urge to point out that, with two small children, I wasn't exactly tearing up the dance floor or clubbing the night away either.
'I can't bear it,' she'd say. 'I'm married to an unfeeling robot. I want out.' And Sophie always got what she wanted.
I saw less of her after the divorce. She went a bit wild, like a garden without the gardener. A succession of men passed through her life but every time the break up came she was back. We'd drink wine and she'd cry on my shoulder all over again. She came round so often Brian asked when she was moving in. Sometimes she'd drink so much he had to drive her home. 'Why do I always fall for the wrong guy?' she'd ask.
Any port in a storm, I thought but said, 'You expect too much. They're only human.'
'I don't know what wrong with me,' she'd say. 'It's all right for you, you've got Brian.'
But I didn't have him for long did I? Not once Sophie set her beady eye and staple gun claws on him. I should have known.
'It's a second wedding,' I said to the girl as I flicked through the dresses on the rail in the shop. 'Not such a show-stopper as the first. It's in a Country Hotel.'
'If you want sensational they're over here,' the girl said leading me to a rail at the back.
Designer outfits from Prada, Dior, McQueen and Valentino shuffled along the rail beneath my hands. They were so gorgeous they took my breath away.
A knock-your socks-off, Electric Crimson number shimmered in my hand. It was so amazing I wanted to cry.
I tried it on. It was achingly beautiful. Short, clingy and low cut enough to be just this side of indecent. It was everything I could ever have hoped for and what's more it showed off my newly acquired tan brilliantly.
I stepped into a pair of killer heels and swirled my hair up on top of my head. I looked so hot Brian's eyes would melt. I'd show him what he's missing.
I'd show Sophie too, when I walk in with Mark. His dedication to work paid off. He's just sold his techno business for a couple of million. She'll turn green when she sees us, just back from our wedding on the beach and our honeymoon in Barbados. Eat-your- heart out Sophie. This time I'm getting what I want.
If you enjoyed this story there are many more in my Short Story Collections here.