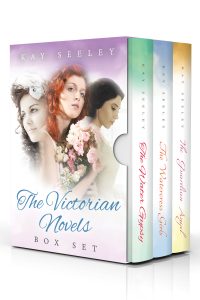 Romance, mystery and suspense come together in these heart-pulling tales of love, loyalty and sacrifice. Beautiful evocative writing brings Victorian London to pulsating life. Three historical novels, three feisty heroines and three fascinating stories that will grab you by the heart-strings and won't let go until the last page.
The Water Gypsy is about a girl from the boats who steals a pie that changes her life forever. She falls in love, gets accused of murder and persecuted through the prejudice of Victorian society. Can Tilly save herself and bring the true killer to justice?
The Watercress Girls follows the fortunes (and misfortunes) of two girls who sell cress on the streets. Set in London's East End where opium dens and street gangs rule it's a tale of flawed ambition, a wrong turn and a dangerous liaison. Secrets are revealed and lives put in peril. Can Hettie find her friend before it's too late?
The Guardian Angel is the heart-wrenching story of a workhouse girl and the mute boy she's employed to look after. Robert is five years old. He can't speak but he can steal your heart. Not everyone is happy about Robert's existence. Can Nell save him from the desolate future his family plan for him?
Three unmissable dramas, each a testament to the power of love to triumph over adversity.
Kindle version £4.99 or read for FREE with Kindle Unlimited available here